i-Tero scanners are an advanced scanning technology that has revolutionized how dentists capture impressions of the oral cavity. Their high accuracy in capturing digital imaging is the main reason why we prefer using the iTero scanner to examine your oral health. The iTero scanner is also completely safe to use for all ages.
iTero scanners are intraoral scanners that are used to scan the oral cavity. They capture all the structures of the mouth, including the teeth, gums, and jaw. Unlike older technologies that produced simpler two-dimensional scans, the iTero scanner captures digital pictures to create a highly detailed three-dimensional image within minutes.
The iTero scanner is quick and easy to use, creating comprehensive imagery in just a few minutes. These detailed scans make it easier for our dentists to accurately monitor and diagnose your oral health. Scans created by an iTero offer a fuller view of the back of the mouth compared to traditional x-rays, where this area was harder to access. 
iTero intraoral scanners are used extensively in dental practices. Dentists use the scans to create accurate dental models for a variety of restorative dental products, including crowns, veneers, and dental implants. They can also use the scans to assess the extent of orthodontic concerns such as underbite, overbite, crossbite, and misaligned teeth.
How Is the iTero Scanner Different?
Older technology, such as X- rays, offered limited two-dimensional images of the mouth. In contrast, iTero scanners provide a faster, less cumbersome method for receiving an impression of the mouth. This new method of taking a digital impression contrasts with physical dental impressions that use soft dental putty placed in plastic or metal trays. These were traditionally used to create an impression of the mouth for orthodontic treatments.
iTero Scanners and Invisalign Treatment
A thorough examination using iTero means your dentist can evaluate the scope of orthodontic work that will bring your teeth into alignment. For patients who plan to do clear aligner therapy or Invisalign treatment, scans will be taken to assess the alignment of their teeth and create a new set of custom aligners at each stage of the treatment process.
How Do iTero Scanners Work?
The iTero scanner is a small wand that your dentist will move around the inside of your mouth, capturing thousands of images of all areas of your oral cavity. These images are pieced together within minutes to create a three-dimensional visual scan that provides an accurate representation of your mouth. The scanner connects to a monitor that displays the 3D image for your dentist to assess.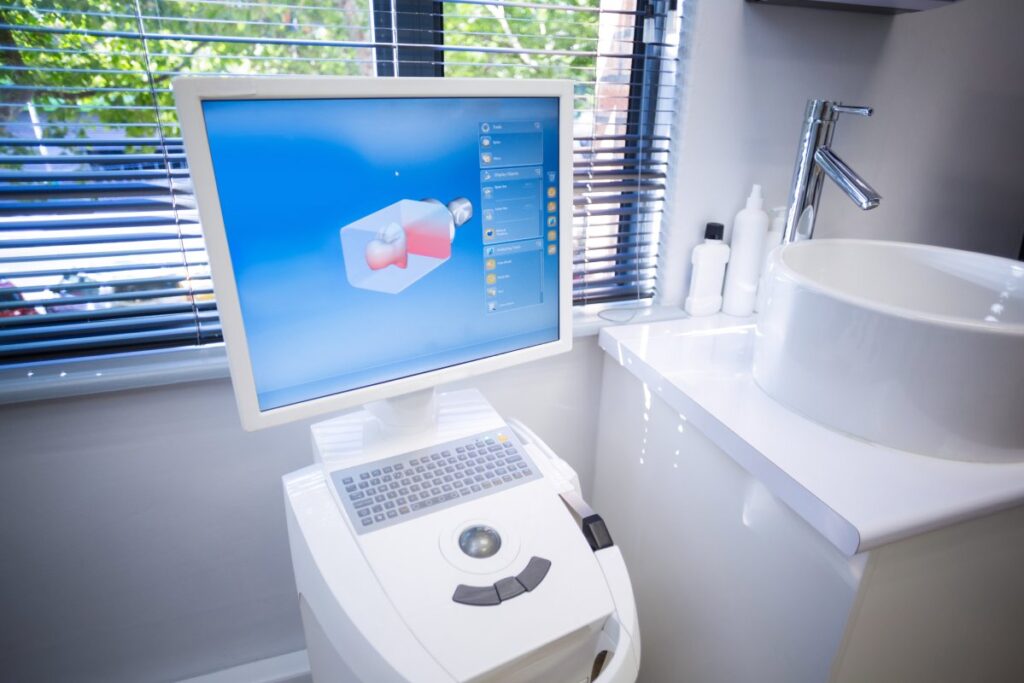 Frequently Asked Questions About iTero Intraoral Scanners
How Long Does it Take to Get a Scan?
The benefit of this newer technology is that the scan is very quick. With the images of your mouth captured in real-time, a fully three-dimensional image is available for viewing within a few minutes. This way, you are able to receive immediate feedback about your oral health, and you can discuss any problems with your dentist.
Is the Scanning Process Uncomfortable?
The wands on the iTero scanner are much smaller than older scanners making it easier to scan the back of the mouth. Because of their smaller size, most patients are unlikely to experience the gag reflex that was common with older, larger scanning tools.
Do I Still Need Impressions?
Dental impression material tasted terrible and smelled bad, and was quite uncomfortable in the mouth. It could take up to fifteen minutes for the material to harden, causing some discomfort to the patient. Scanning removes the need for taking a physical impression for orthodontic treatments and some dental devices.
How Are Scans Used For Invisalign Treatment?
iTero scans are compatible with the Invisalign teeth straightening system. The high level of detail of iTero scans provides an accurate three-dimensional representation of the teeth and is used to design the treatment plan. The scan is available within minutes and submitted to the Invisalign lab to create your first set of clear plastic aligners. Your dentist will arrange subsequent visits and re-scan your teeth to assess the changes. They will then send the new scans to the lab to create your next set of custom aligners.
Is the iTero Intraoral Scanner Safe to Use?
Unlike x-ray technology that utilizes radiation to take two-dimensional images of the mouth, the iTero intraoral scanner is radiation-free. This means that it is perfectly safe for everyone, including pregnant women.
iTero Scans for For Comfort and Accuracy
At All Smiles Dentistry, we believe in providing the highest level of patient care for an optimized experience. We combine our skills and passion for dentistry with the latest technology to provide services that are second to none. iTero scanners are the ideal solution to diagnose, assess, and create treatment solutions to improve your oral health.