If you've imagined having straighter, even teeth but don't want the hassle of traditional orthodontics, Invisalign is the solution for you. Using a series of clear aligner trays to gradually shift your teeth into the ideal position, Invisalign is the modern orthodontic solution. Children, teens, and adults love the comfort factor, ease of use, and results created by Invisalign treatment. You'll see a straighter smile in less time.
How the Invisalign System Works
The Invisalign system uses a series of clear aligner trays that are custom created for your mouth to give you your desired results. You'll wear one set of trays for a certain amount of time, as recommended by your dentist, then you'll switch to the next set. For minor straightening concerns, you can see results in as little as six months.
Getting Started With Invisalign
During your first appointment for Invisalign treatment, your dentist will capture 3D imaging of your teeth, gums, and mouth using the iTero scanner. iTero works in tandem with Invisalign design to ensure you have custom-made trays that fit correctly to your mouth. The trays will fit snugly to work correctly, but the material and shape are more comfortable than the wires and brackets of traditional braces.
Invisalign vs. Other Orthodontic Treatments
Individuals with minor orthodontic concerns are the ideal candidates for Invisalign. The aligner trays work well to straighten teeth and reduce minor gaps between teeth. Invisalign is not designed to treat extensive or severe orthodontic concerns. For complex cases, our dentists will refer you to an orthodontist for an alternative solution suited to your smile needs.
Treatment from Our Dentists
Another benefit of the Invisalign system is that our dentists are trained and certified to provide you with the solution. You won't need to leave the office to visit the orthodontist. Our dentists will create the digital map of your teeth using the iTero scanner, send your treatment plan to the Invisalign lab, and monitor your progress with regular check-ups. Our dentists are here to answer any of your Invisalign questions.
Invisalign Works for Most Smiles
Invisalign treatment is not just for teenagers but for almost anyone who wants straighter teeth. The clear trays make them nearly invisible, so you can maintain your lifestyle with confidence. With a simpler cleaning system and greater comfort throughout the day and night, it's clear why our customers choose Invisalign.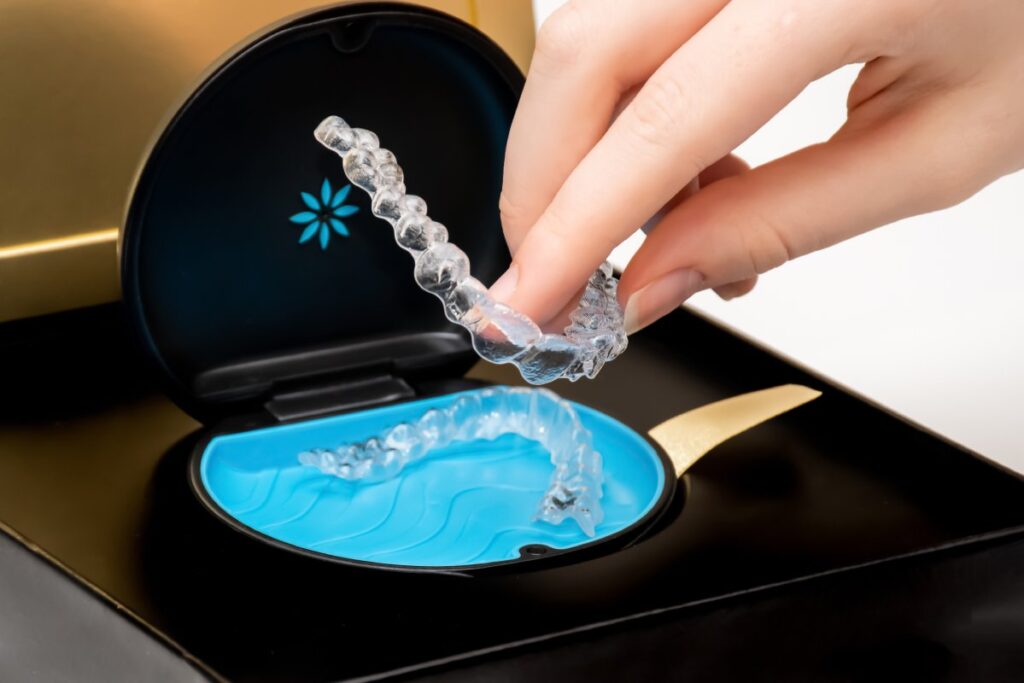 Frequently Asked Questions About Invisalign
Does Invisalign Work Permanently?
Yes, the results created by Invisalign are permanent when you follow the instructions given by your orthodontist. Not wearing the trays for the recommended amount of time can extend the length of time you'll need to wear them to achieve straighter teeth.
Can I Remove My Invisalign Trays When I Eat?
Yes. One of the main reasons individuals love the Invisalign system is that it reduces their dietary restrictions. Invisalign system users can remove their aligner tray to enjoy their favourite foods. Popcorn and chewy sweets are no longer off limits as they are with braces -though they should be eaten in moderation for overall dental health.
How Do I Brush My Teeth With Invisalign?
You can maintain your usual oral health routine with Invisalign. Simply remove your aligner tray while you brush and floss your teeth. Removing your tray while you eat also reduces the food particles and bacteria from building up inside the tray. You'll also want to ensure you clean your trays daily, as per your dentist's instructions.
How Long Must I Wear Invisalign in a Day?
Invisalign is designed to work based on wearing your trays for 20-22 hours every day. Failing to follow this direction can result in delayed treatment results, discomfort, or other complications.
How Much Does Invisalign Cost?
The full cost of Invisalign treatment will depend on your dental office and your unique treatment. The length of time and the number of trays required to achieve your ideal smile will impact the total cost of the treatment. Many dentists offer affordable billing options. Ask our dental team about payment plans and insurance coverage for your Invisalign treatment.
Does Insurance Cover Invisalign?
Many insurance providers will cover up to 50% of the cost of Invisalign treatment, but it depends on your dental insurance provider and your insurance plan. You can consult with our dental team in advance to determine the cost of your unique treatment and how much coverage your plan will provide.
Creating Beautiful Smiles With More Comfort
Getting a straighter smile can be comfortable with Invisalign. Not only are the trays themselves easier on your gums, but the entire treatment also offers greater comfort. When you need to eat or brush your teeth, you can remove the tray for a brief period. As long as you wear your trays as directed by your dentist, you'll see results quicker than other options.